Looking for the best surfing dog photos? So are we. When ever we find a photo of a surfing dog we like, or a funny dog riding surfboard photo or just a cute surfing dog pic, we collect them here:
Is this the cutest surfing dog you've ever seen?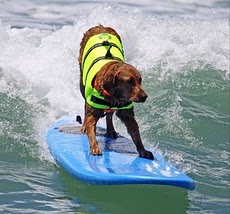 Dog riding surfboard! Hang 20!
A Man and His Surfing Dog
Girl Dogs Surf Too!

Bulldog riding surfboard is no bull!


Lots of Dogs riding one surfboard - that's cool dog surfing!